FOR IMMEDIATE RELEASE
April 13, 2020
Outgoing Newton Dems Chair and Longtime Democratic Activist Shawn Fitzgibbons Endorses Jesse Mermell for Congress
NEWTON – Jesse Mermell today secured the endorsement of Shawn Fitzgibbons, outgoing chair of the Newton Democratic City Committee (NDCC) and longtime Democratic activist.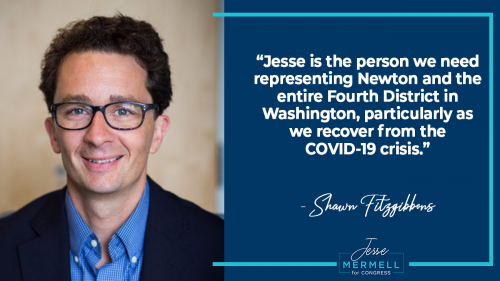 Fitzgibbons recently ended his term as the Chair of the NDCC, a position he held since 2012. He previously served by appointment of the Newton City Council on the Newton Child Care Commission and is the Immediate Past Chair of FamilyACCESS of Newton. He has taken leading roles on numerous Democratic campaigns over the years, including President Obama's New England re-election steering committee and the campaign for marriage equality.
As NDCC chair, Fitzgibbons led the way on the Welcoming City Ordinance and led a successful campaign to prevent the outsourcing of the Newton Public Schools Custodians Association. On a statewide level, he took a leading role in 2016 on the "No on Question 2" campaign against the expansion of charter schools. He is an avid cyclist, commuting over 100 miles per week year round by bike and a member of Green Newton, Bike Newton and the Boston Cyclists Union.
"Jesse Mermell has dedicated her life to championing progressive causes, from building an economy that works for everybody to protecting abortion access and fighting against climate change," said Fitzgibbons. "Jesse and I have worked toward the same goals for years, and she has what it takes to not only lead on progressive issues, but deliver concrete results.
"Jesse is the person we need representing Newton and the entire Fourth District in Washington, particularly as we recover from the COVID-19 crisis."
"Shawn Fitzgibbons has been an indomitable force in Massachusetts progressive politics for many years and I'm honored to have his endorsement," said Mermell. "Shawn understands the issues that matter most to the people of Newton inside and out, and I'm proud that he has placed his trust in me to deliver results for them."
With his endorsement, Fitzgibbons joins a growing coalition of local, state, and national leaders who are supporting Jesse for Congress, including Congresswoman Ayanna Pressley, former Massachusetts First Lady Diane Patrick, Lawrence Mayor Dan Rivera, State Representative Carolyn Dykema, former State Representative Frank Smizik of Brookline, and local elected officials and state committee members from communities across the district. Jesse has also secured endorsements from the Massachusetts Council of Machinists and Her Time, an organization supporting women candidates for office led by former U.S. Congresswoman Kate Hill.