FOR IMMEDIATE RELEASE
March 8, 2019
Rep. Carolyn Dykema and Hopkinton Dems Chair Darlene Hayes Endorse Jesse Mermell for Congress
HOPKINTON – Two Hopkinton-area Democratic leaders have endorsed Jesse Mermell for Congress. Mermell announced at today's Hopkinton Democratic Caucus that she has received the endorsements of Representative Carolyn Dykema (D-Holliston) and Hopkinton Democratic Town Committee Chair Darlene Hayes. Representative Dykema and Hayes say they are supporting Mermell because she is the best candidate to lead on the issues affecting Hopkinton residents, such as championing public education, fighting climate change, and creating a fair economy.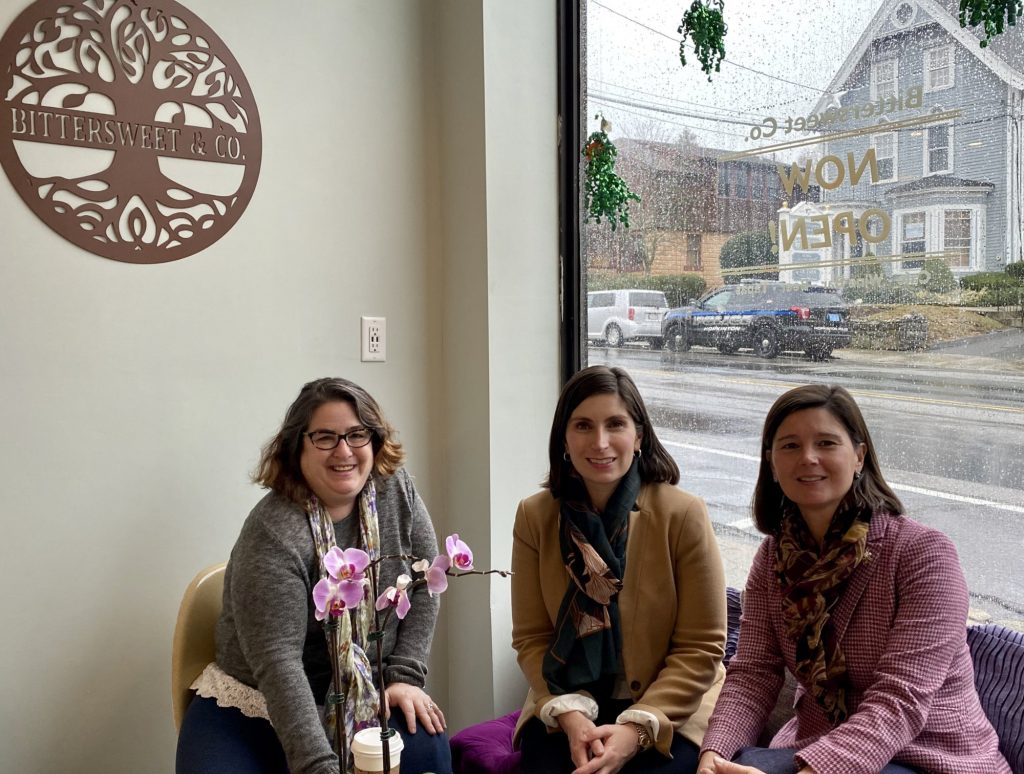 Representative Dykema has served the communities of Holliston, Hopkinton, Southborough and Westborough in the Massachusetts House of Representatives since 2009. She has led on issues such as the environment, veterans affairs, infrastructure investments, and mental health and juvenile justice reform. Darlene Hayes has led the Hopkinton Democratic Town Committee since 2016. She has lived in Hopkinton for 25 years.
 "Jesse has strong core values and has shown that she's ready to go to the mat for things that really matter like economic opportunity for all, equal pay for women, and reproductive health care," said Representative Dykema. "But what impresses me most about Jesse is that she's an excellent listener. Her concerns are grounded in the concerns that she hears from real people every day. She's smart and informed and will be an active and effective representative in Congress for the residents of Hopkinton and the district. I couldn't be more proud to support Jesse in this critical election."
 "I'm proud to endorse Jesse Mermell for Congress because she will be a progressive fighter for the people of Hopkinton," said Hayes. "She has a demonstrated record of advocating for improvements to our transportation system, tackling climate change at the local level, and supporting local businesses. Jesse shows up for the people of Hopkinton and listens to them– just as she does across this whole district. She is the candidate we need leading on these issues and standing up for us in Washington D.C."
"I am honored to receive the endorsement of these two incredible Democratic women leaders representing Hopkinton," said Mermell. "Representative Dykema has been a strong advocate for her community in the State House, standing up for our veterans and advocating for criminal justice reform and infrastructure investments. Darlene Hayes has been instrumental in electing Democrats up and down the ballot and ensuring that our values are represented in government. I'm proud to have them on my team and I look forward to working with them to create an economy that works for everyone in the Fourth District." 
Representative Dykema and Darlene Hayes are the third Hopkinton-area endorsements for Mermell, as Hopkinton Select Board Member Irfan Nasrullah endorsed her campaign in January. These endorsements add to the broad coalition of local and state support that Mermell has steadily built since launching her campaign – including endorsements from Congresswoman Ayanna Pressley, former Massachusetts First Lady Diane Patrick, Lawrence Mayor Dan Rivera, former state Representative Frank Smizik of Brookline, and local elected officials and state committee members from communities across the district.